Things to do
We are proud to offer Raglan's only concierge service. Require a dinner reservation or an activity booking?... No problem! We're glad to help. Get a local perspective on Raglan's many great experience options. We may be able to save you time and money.
Some say…it's all about the water! Surfers from around the world have been making the pilgrimage to Raglan for decades since its waves first appeared in the 'Endless Summer' surf movie, premiered in 1966. As there are number of different surf breaks to choose from, Raglan is the perfect spot for learners to advanced surfers. Our front desk crew can arrange surfboard and wetsuit rentals, and surfing lessons with the Raglan Surfing School who offer free pick-ups and drop-offs from the Motel.
We also offer kayaking and stand up paddle-board rentals. Guided tours launch directly from our front lawn! Bring your boat along and enjoy some great west coast fishing, as we have plenty of onsite parking with close access to Raglan boat ramps.
Looking for a little romance? Why not let us book you an evening on a Sunset Harbour Cruise with the crew of the Wahine Moe from Raglan Boat Charters.
We are also friends with Garth, who is a great operator in Raglan offering rock climbing and canyoning with his company - Raglan Rock.
Others say…it's all about the food! You must try one of Raglan's many critically acclaimed cafes and restaurants, or grab some fresh fish at the Raglan Fish Market at the Wharf and bring it back to the motel to BBQ.
Raglan Roast Coffee is a must. We also recommend the Herbal Dispensary for their specialty gourmet and organic food selections and for their wide range of natural health products, herbal medicine, and homeopathic remedies.
Need a wind down? We can arrange for massage and yoga sessions at your convenience. Or why not pour yourself a New Zealand wine and soak your troubles away in our waterside spa pool.
There are many great walks close by, including Bridal Veil Falls and Mount Karioi. Or for those needing a little more of an adrenaline rush, Raglan's recently opened Ocean View Mountain Bike Park is great for mountain biking enthusiasts. It is suitable for all abilities and also offers bike rentals.
We are certain you will never run out of things to do here in beautiful Raglan!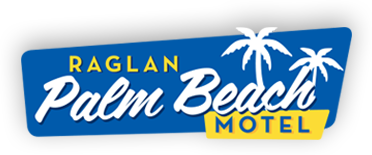 "I think this place is great, you get exactly what you pay for. The..." - Genma | Wrexham, United Kingdom
Read More Reviews